Finding the right atmosphere to fit an office is essential for a comfortable work environment. Your office interiors set the tone for your office through a blend of aesthetics and functionality. Let's face it. We spend a significant portion of our time at work. And while we are at making plans for the business or strategising campaigns, we need to be at our best so that we're productive and content.
An uninspiring workspace not only lowers your productivity but also demotivates you. But no worries! Sheraspace is here with 5 simple tips to decorate office spaces to boost your productivity.
1. Focus on the ergonomics
Before decorating your office, take notes of different working styles and requirements. Some people may prefer to work on an L shaped desk to switch between workstations, while some like to work on counter height desks. So, create a space that caters to every individual's working style.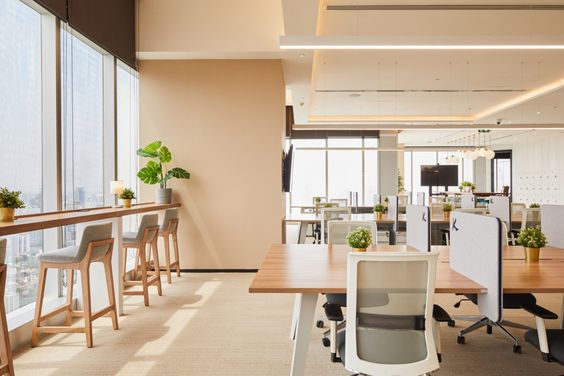 The Ergonomics of an area isn't just about furniture – it's also about visual and audio elements. Traditional lighting that you would find in offices of bygone eras was harsh on the eyes and often reflected off computer screens. So ensure lighting that is not too harsh for the eyes but helps you work efficiently.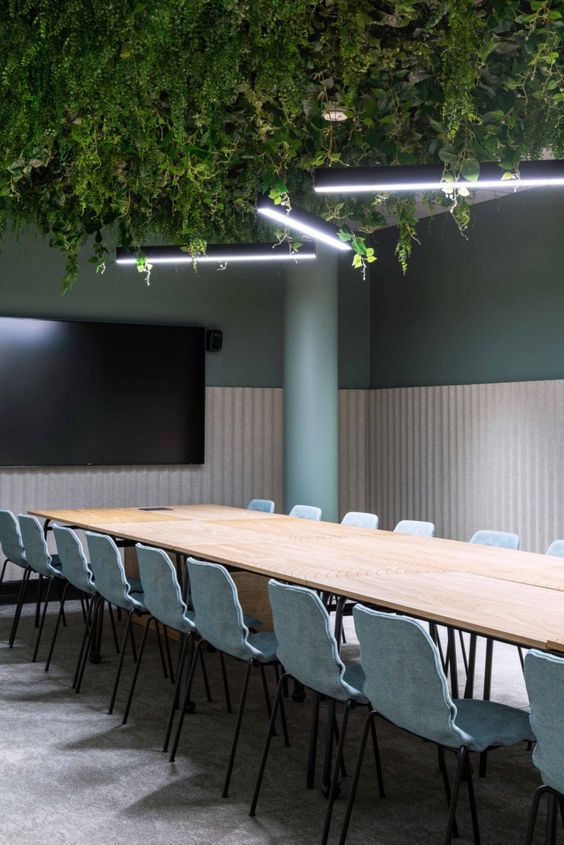 2. Decrease the clutter
'A cluttered space creates a cluttered mind' – so make sure to not go overboard with furniture and keep it minimal. Create a clean space that inspires you to start your workday. Do not pile up files and stationary on your work desk; instead, create efficient solutions to store your documents. Instead of heavy desks and chairs, use sleek furniture to make your office look neat.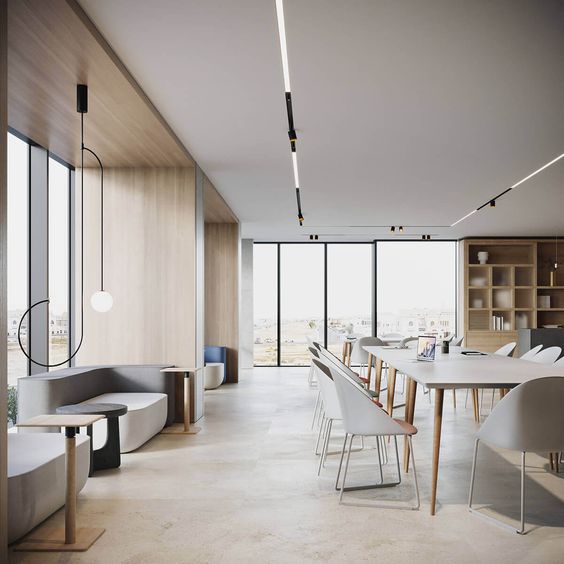 3. Choose the right colour palette
You should be careful when deciding on the colour palettes for your office. While some colour lifts your mood and boosts productivity, others will make you feel low and gloomy. Colours like grey, beige and white promote a dour, gloomy atmosphere. Greens and blues will make you feel more focused and efficient.
Yellow is a very bright colour that helps to boost your confidence. An entire room of yellow may be too flashy, but a well-placed accent wall in the right environment could inspire passion and uplift your mood.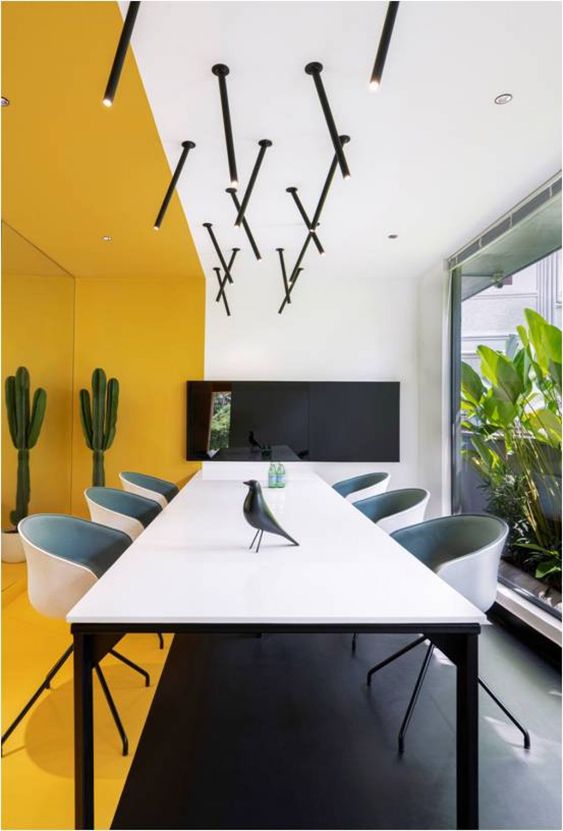 You can also choose to mimic the colour palette of your logo, but lighter shades of the same hues are often an ideal route to take for paint colours.
4. Energise your lighting
Inadequate lighting in the office can make you feel gloomy and tired. Ensure ample lighting in your work area. Put desks close to windows to utilise natural light. Drape windows with sheers instead of heavy blinds or curtains to let the natural light come in.
Traditional fluorescent office lights feel staler than inviting and may end up being a source of your headache. Incandescent bulbs, white LED lights and lamps can be good lighting sources to pepper your office with.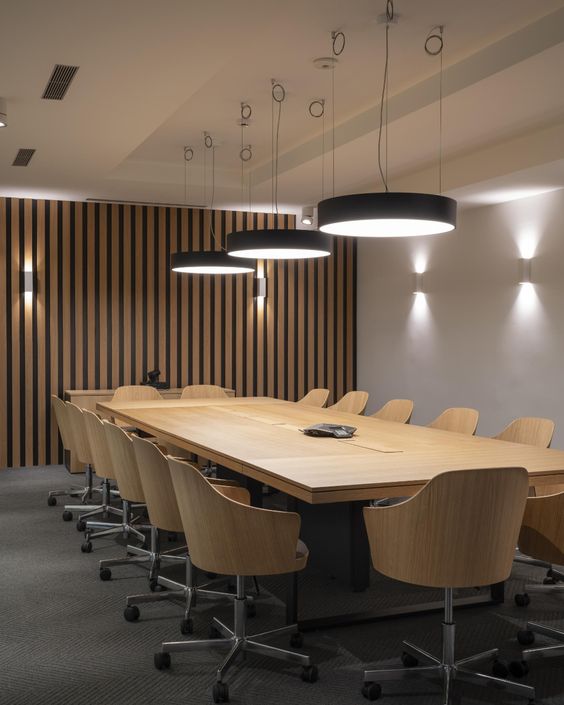 5. Add some greenery
Bring in some fresh plants to the office to make it feel lively and fresh. Big, statement plants fit large offices with access to natural light.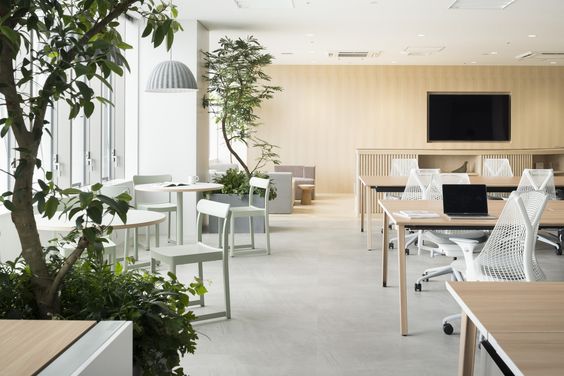 If your workspace is confined within the panels of a cubicle, don't worry, you can still utilise your walls to hang some plants! If you work on an open desk, you have limited real estate for greenery, but that doesn't mean you can't do it! You can decorate your desk with small succulents and flowers.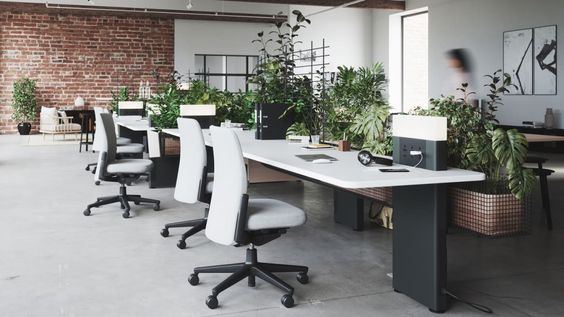 6. Seek professional advice
Decorating your office space on your own may be a daunting task, so don't hesitate to seek professional advice. An experienced interior designer will help you plan your space ergonomically that fit your requirements.
You can avail yourself of a Commercial Design Consultation from Sheraspace for your office for unique design plans to make your office functional. Sheraspace provides hassle-free solutions for your office interiors.
Having spent a major portion of time in the office, it is important to have a space that feels comfortable but also inspires you. Consider these tips when you decorate your office or workspace to make you feel at home in your office!