The hustling, bustling city life brings in a lot of stress, but there are simple ways you can make your home a healthier and happier place. One simple way is to put some potted plants in your living room. From helping with stress relief to serving as a simple decor piece, indoor plants are undoubtedly a great addition to your home; however, when it comes to houseplant placements, it can get quite tricky. This blog will help you get started with your favourite potted houseplants.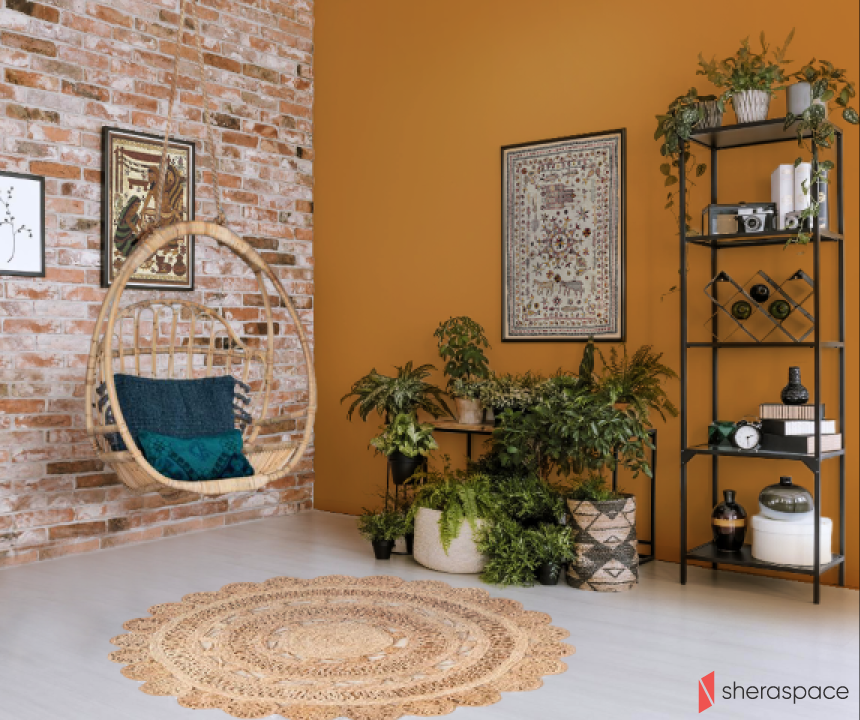 The key to keeping your plants happy is proper care and placement. Suitable temperature, moisture, and water supply are essential for the healthy growth of plants. Plants come in different shapes, sizes, colours, and textures, giving us the flexibility to play around with various styles and combinations. While meeting our aesthetic standard is desired, it is crucial to ensure a proper plant placement to get the most out of it. We have already shown you types of indoor plants in 10 indoor plants to grow in your home; now, let's know how to accentuate your interiors with indoor plants.
Understand light in your home
While introducing a variety of plants in different corners of a room can add that much-needed drama, it is vital to note the room's lighting conditions. Indoor plants may need low light intensity, but that by no means translates to no light at all.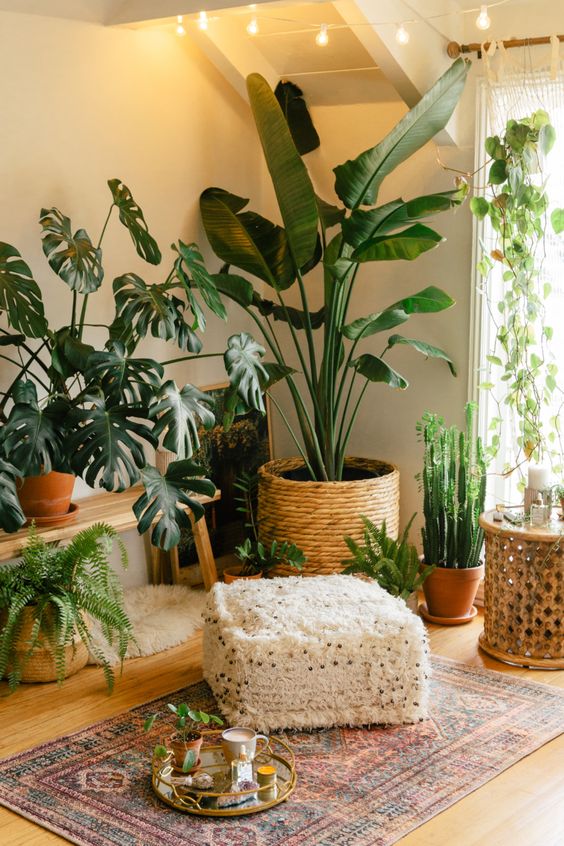 Before you bring up your treasured plants to meet the aesthetics of a room, take a quick scan of your place. If your window placements are further apart from the centre of your room, it's best to put your pots along the room's periphery. If your home does not have a tremendous amount of light, then grow plants have got your back. These lights provide a light spectrum similar to the sun which helps grow plants healthy. 
Warm-up your Entry-way
The foyer or entry is a great place to incorporate indoor plants as it introduces your home. When guests step into your house, they can be greeted with a friendly refreshing group of plants of different sizes.
Think about a vignette of smaller potted plants of mixed heights if you have a small entry space. For a more spacious entry, a pot of plants proportionate to the space can fill up the spot while complementing your other decor pieces. Try not to go too heavy on the entry as it may suffocate or block the pathway.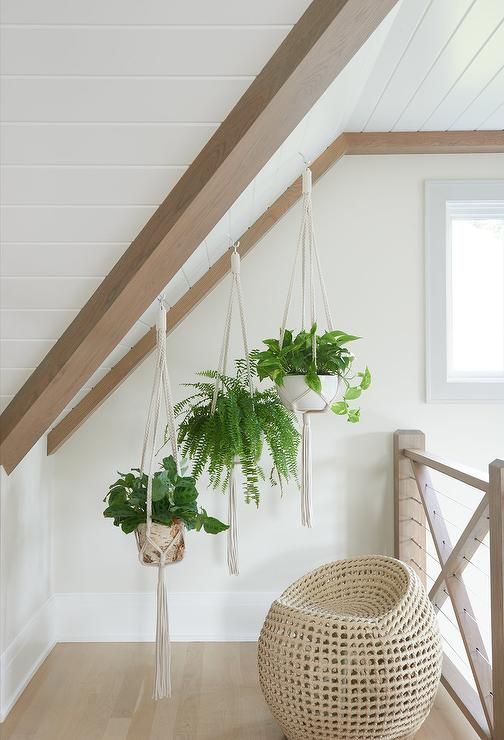 Play with Patterns and Colours 
When decorating with plants, variation can bring the perfect poise. Plants in different shapes and sizes can be paired with matching or contrasting pots. A bushy planter paired with a leafy one can provide some needed pizzazz to your corners. The good news is, that you are not limited to different plants to bring variation, you have a broad selection of pots, planters, and hanging baskets.
If you have a plant with colourful leaves, try putting it in neutral pots- a plain white or black pot can accentuate the colours of the plant without taking away much. Vividly painted ceramic or other geometric patterned pots can tie up the amalgamation of plants. While it's fun to play with colours and textures, be mindful of coherence among vessels. A similar colour palette helps to maintain consistency when grouping small pots.
Use plants to make focal points
Don't underestimate the power of planters in your living room! They can make beautiful sculptural decor and give your space a breath of freshness. A large plant can serve as a great accent piece at the corners or the centre of your living room. Adding some spotlights can make them more spectacular. 
Hang your pots
If you are worried about a small space, hanging plants and floating shelves are here for the rescue. Hanging plants are back on trend and for good reasons. They are space-efficient and changing planters according to your interior can help uplift the atmosphere. Handmade macrame or bamboo planters can add a rustic taste to your space.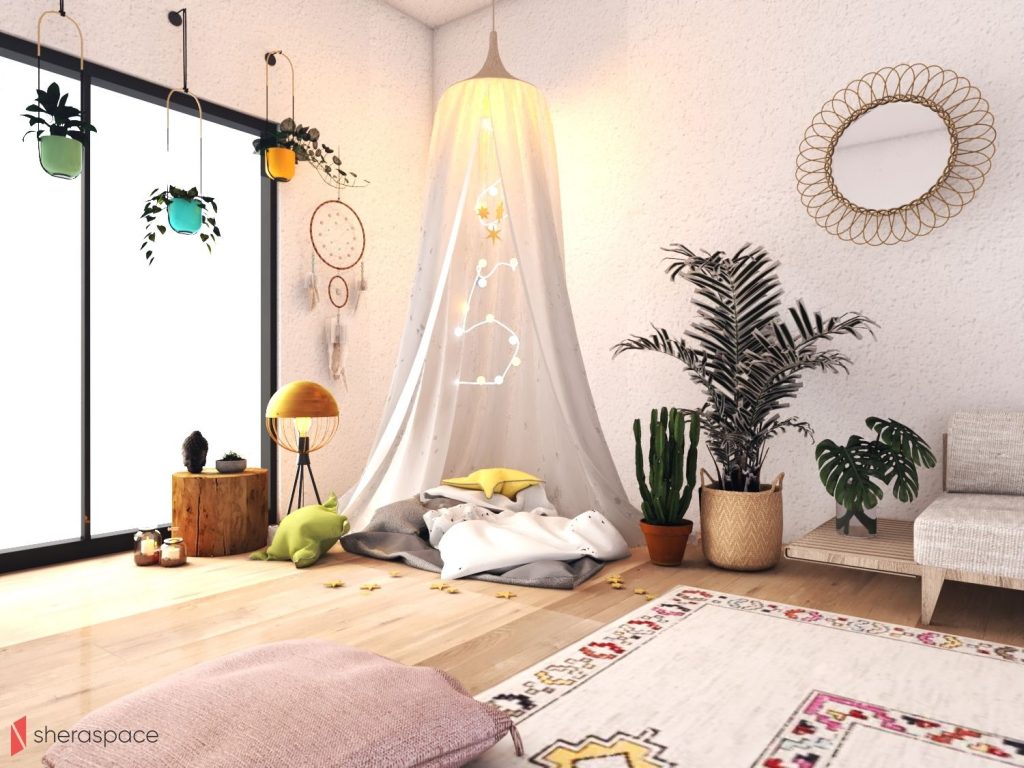 If your space lacks a natural layout of height difference, hanging pots and floating shelves are the fix. Organizing plants on floating shelves combined with sentimental pieces can fill up a blank wall. 
Houseplants are great decor pieces to fill up an empty space, and add some colour and texture to your interior design. A simple touch of nature can make all the difference by bringing life and warmth to your interior. Houseplants with the right placement can transform any boring corners of your room and be cost-effective always comes as a bonus. 
For professional guidance with your interiors, contact us at Sheraspace!